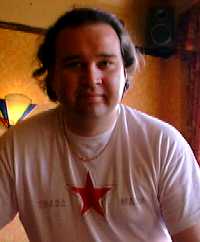 Steve the Waistcoat's Homepage
Besides some minor tweaks, this site hasn't been updated since April 2000 and should be treated as legacy. It was moved to my own severs in April 2014 with minimal fixing up.
Welcome to my homepage. I'm known down the pub as Steve the Waistcoat probably because I tend to wear them rather a lot. I also respond to the title 'F.N.B.'. This is a lot like the Scottish character from Austin Powers, but with Northern in the middle.
I live and work in Welwyn Garden City, Hertfordshire, England, approximately 20 miles north of London. I am employed by Xerox Europe, a part of Xerox Corporation as a Senior Software Specialist in the Xerox Europe Technical Centre.
I have been involved with computers since the early '80s when my parents bought me a Sinclair ZX81. I attended Barnsley College of Technology where I gained a Diploma in Computer Studies followed by a Degree in Computer Science and Mathematics from Lancaster University.
| | |
| --- | --- |
| | In my social time I like nothing more than to sit down at the round table, sinking a few pints of beer in my local the Peartree, rounded off by a late night film preferably on DVD. I also really enjoy making a fool of myself especially when there's a karaoke evening on. I've got to the finals in competions several times, but I'm sure its for entertainment value rather than ability! |
This page had been accessed 2291 times before moving back to my own servers.